Blockchain for Transparency


Case Study
Can blockchain revolutionise supply chain transparency within the fashion industry?
The FIA collaborated with Martine Jarlgaard, Provenance and A Transparent Company to demonstrate how blockchain technology could change the future of fashion. This project highlights the role of blockchain technology and how it could increase transparency in the fashion industry, by tracking the journey of raw material through the supply chain through to the finished garment.
---

Registering and tracking items on blockchain via the Provenance app, this project followed the production of garments made from sustainable alpaca fleece, from shearing to spinning, to knitting and finally to Martine Jarlgaard's studio in London.
Users were able to scan the NFC-powered label on the garment to see its journey through the supply chain. Martine showcased her blockchain-tracked garment at the Copenhagen Fashion Summit in 2017 as the world's first garment using technology to track product provenance from raw material to finished product. With the ever increasing demand from consumers for transparency, this is an important development for the fashion industry.
"Until now, centralised data systems were the only way to power traceability for materials, to ensure trustworthy data. Blockchain disrupts this by changing how we track the journey of things, and powering a system that everyone in the supply chain can be part of."
Jessi Baker, CEO and Founder of Provenance: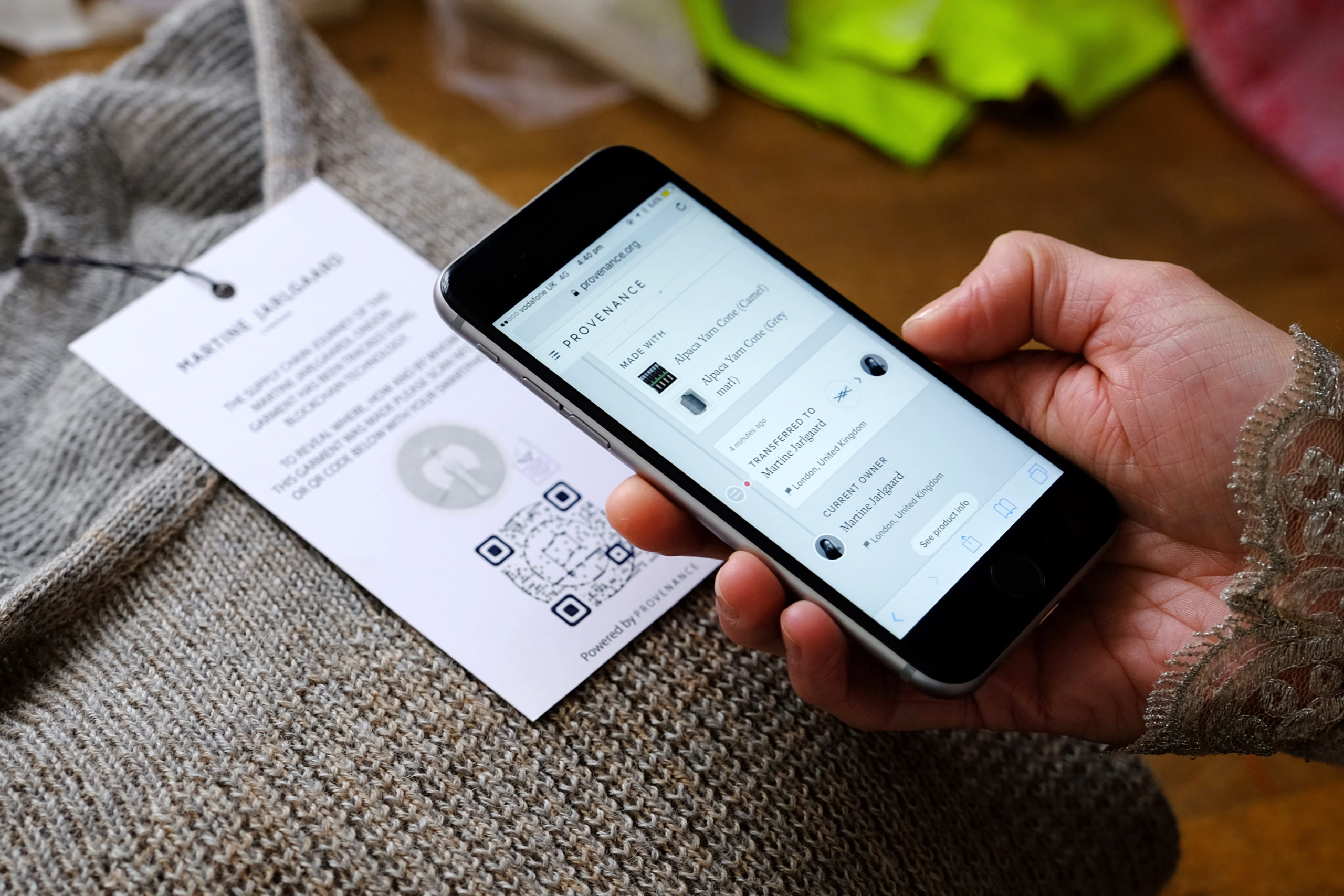 "Vision, ethics, accountability and education – these are the most important ingredients for change, laying the foundations of a sustainable future for the fashion industry. Blockchain technology and the Provenance platform is a step in the right direction, and will help make sense of the massively complex and often secretive processes which make up the supply chain. Full transparency and traceability becomes a stamp of approval allowing consumers to make informed choices with no extra effort."
Founder of Martine Jarlgaard London